Pick-up Information: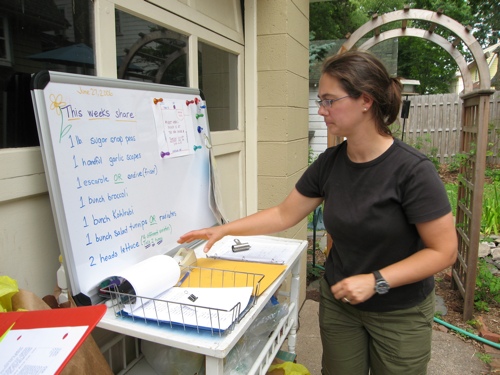 When: Tuesdays 2:30 – 6:30pm
Where:

135 Lindburgh Boulevard, Bloomfield, NJ
96 Bowden Rd, Cedar Grove, NJ
86 Llewellyn Road, Montclair, NJ
Who:

Karin Johnson is the site host of the Cedar Grove site. Contact Karin at 973-239-7534 with questions.
Janice Jacobson is the Site Host of the Llewellyn Road, Montclair site. She can be reached with questions at: 610-659-5222.
(Info on the Bloomfield site contact will be posted soon.)
How: The farm sends the produce down on Tuesdays by 1:30 pm. Members who have set up duty arrive at 1:30 to help arrange the site — labeling bins, writing the share on the board, weighing and bagging some items and prebagging shares for members who have requested that service. Members begin arriving at 2:30 and sign in (!), read the board and then bag their own shares. The site coordinator and helpful members replace empty bins with full ones and consolidate the vegetables to keep everything neat and orderly. At 6:30 the clean-up crew arrives.  They pack leftovers for delivery to a local soup kitchen, rinse and stack empty bins in garage, and move any shares that have been prebagged to the front stoop of the pick up site. Finally, tables are folded and put away.
Other details
Parking and Traffic Please be sensitive to the residents of the neighborhood. Do not block driveways or try to turn around in the middle of the block. Be on the alert for children playing.
Bring Bags Canvas, plastic, paper, nylon mesh, vintage willow baskets, whatever. There will be bags at the site for those of you who forget, but the supply tends to run out, so try to remember to bring your own.
Sign-In This is very important. We need to know how many people have picked up so we can monitor the produce and make sure everyone gets their share. If you are picking up for someone else, or are having friends pick up for you, please be sure to sign-in.
Be Extra Careful When Bagging John gives us a precise amount of food and it should work out evenly, but sometimes it doesn't. This can be the result of a miscount at the farm or it can be a distribution problem at the site, but we must all try to minimize human error.
Please Be on Time Try to arrive between 2:30 – 6:30.  (Between 2:30 and 6:30 at Cedar Grove) We would appreciate members not coming early and if you are going to be late, call and we will bag your share and leave it on the porch.
If you are going to be late and miss the pick up, you MUST call by 6:15 pm We want everyone to get their share. If you have difficulty getting to the site by 6:30 we will bag it and leave it on the porch. But only if you call before the end of the pick-up. If we do not hear from you we will assume that you are not picking up your share. You can also have a standing request to bag your share if you are unable to make it by 6:30.
Sign up for your work shifts and be on time On the first day of pick up, we ask members to come a few minutes early to sign up for the work shifts for the season.  We send an email to remind you a few days before. Please be on time for your shift; 1:30 for set-up, 6:30 for clean-up at all three sites. If something unforeseen comes up and you absolutely can't make it, it is your responsibility to try and find someone to fill your time and notify Cathie.  We post a calendar of work shifts with members email and phone numbers for members use to help find replacements for work shifts.
No Comments »