The Bloomfield-Montclair CSA is a group of over 200 members who support the sustainable farming activities of local farmers.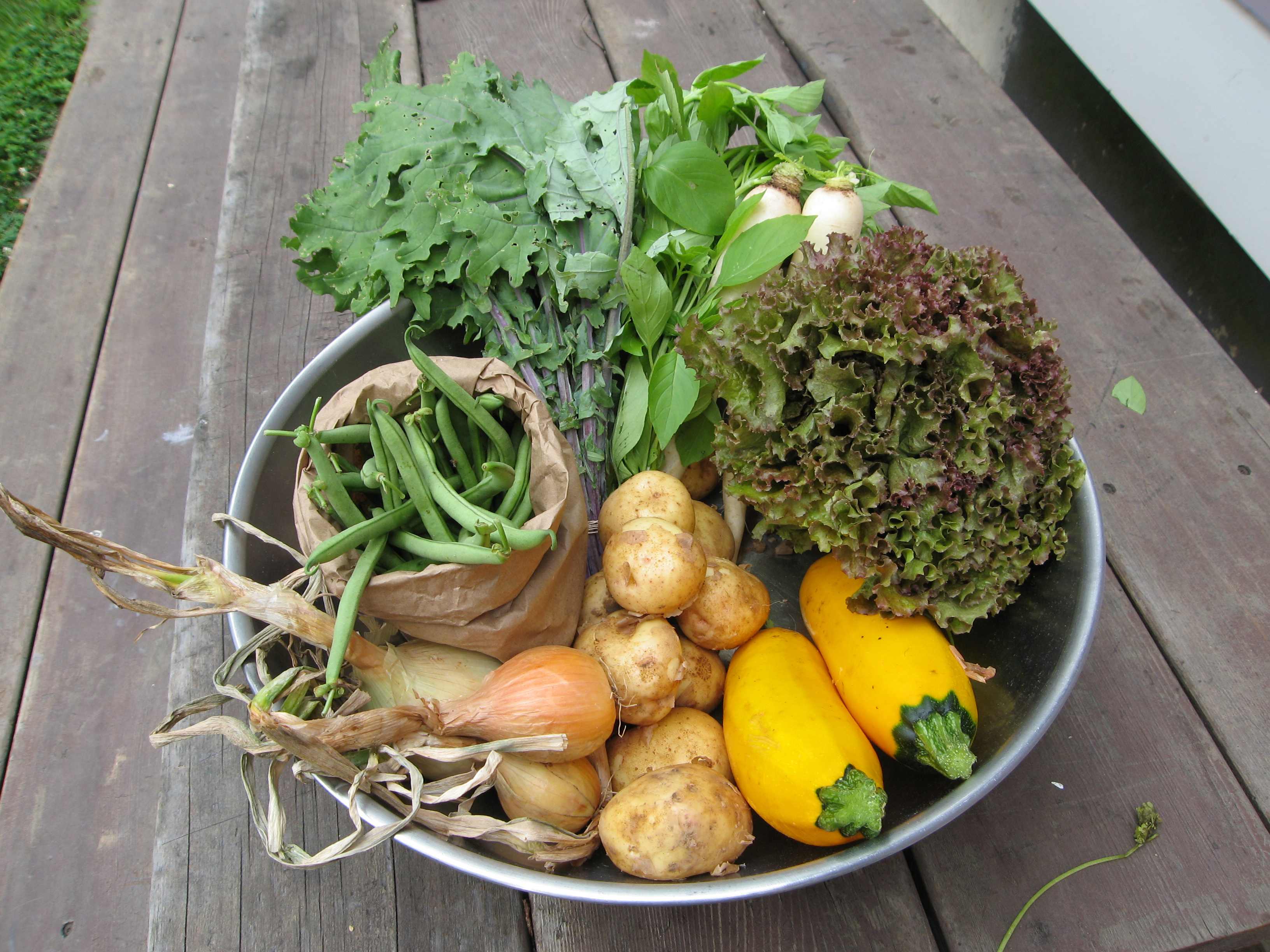 The basic idea of Community Supported Agriculture is that a farmer grows for a group of members who have purchased "shares" in the harvest. Members pay at the beginning of the season in March, when the farmer most needs the money. When the crops start coming in in June, the farmer delivers a weekly assortment of vegetables, herbs and some fruit. This is not a co-op, there are no wholesalers or distributors. 100% of your food dollars go to the person who is growing it. You support sustainable local agriculture and get freshly picked organic produce at reasonable prices. In addition, you know the farmer growing your vegetables and can visit the farm—establishing a personal connection with your food supply.
Why Join a CSA?
Support a local farm

Eat fresh picked organic vegetables

Preserve open spaces

Know the farmer who grows your food

Teach your kids where food comes from

Visit the farm

Eat seasonally

Meet friends

Reduce packaging waste

Cook something new
How Does it Work?
The site looks a little like a farm stand with vegetables in crates and coolers. Members pick-up their share at a distribution site on Tuesday afternoons and weigh and bag their own shares. Everyone contributes a few 45-minute shifts during the season to help with set-up and clean-up. Kids can help or play while you chat and swap recipes. The pick-up becomes a place to bump into friends and meet new ones, a chance for kids from different schools to say "Hi" and an opportunity to compare notes on roasting eggplants.
In addition to a weekly share of veggies, members also have the opportunity to order several other food offerings. Members may opt to sign up for a separate fruit share, egg and poultry share, purchase bulk organic blueberries and organic honey.
What's in a vegetable share?
The weekly vegetable shares are provided in partnership with

John Krueger

, owner and operator of Circle Brook Farm. John grows mostly vegetables, however, he also grows melons. Previous shares have included: Arugula, Asian Greens, Basil, Beans, Beets, Broccoli, Broccoli Raab, Brussel Sprouts, Cabbage, Carrots, Cauliflower, Celery, Celeriac, Chard, Cucumbers, Eggplant, Garlic, Herbs, Kale,  Kohlrabi, Leeks, Lettuce, Melons, Onions, Parsnips, Peas, Peppers, Potatoes, Pumpkins, Radishes, Salad Mix, Scallions, Spinach, Summer squash, spinach, Tomatoes, Tomatillos, Turnips, Winter squash.
In addition to the vegetable share, CSA members (you must purchase a vegetable share in order to be a member) have the opportunity to order several other food offerings.

Fruit Share:
In addition to the vegetable share, we also coordinate a separate fruit share with Tree-Licious Orchards in Port Murray New Jersey.  The fruit share runs for 23 weeks and includes 1-2 varieties of fruit each week, starting with berries and Bing cherries, and progressing through the season from sugar and shiro plums, to peaches, nectarines, and finally pears and apples in the fall. While the fruit is not organic (growing organic fruit in NJ is quite difficult) it is low-spray, and follow the NJ Fruit Integrated Pest Management program.  IPM pairs the age-old good farming practice of careful observation with state-of-the-art weather monitoring and scientific understanding of pest and disease life cycles. The result is a significant reduction in the amount of pesticides used, dependent upon seasonal conditions.  For more information about IPM see

http://www.epa.gov/pesticides/factsheets/ipm.htm

.
Eggs and Poultry:
The Bloomfield-Montclair CSA, in partnership with Griggstown Farm, is happy to offer egg and poultry shares for the 2016 season to our CSA members.  Griggstown Farm is a local farm in Princeton, NJ that raises and processes cage free poultry with feed free of growth hormones and antibiotics, on 65 acres of preserved land. Griggstown's laying hens are pastured, however their broilers are not.  While we would prefer the broilers were pastured as well, we recognize that chicks and pullets must be raised indoors for at least their first four weeks since they are too small to be well protected outside.  Griggstown's CSA broilers are on the smaller side (they have found that CSA members appreciate this smaller and cheaper option) and are processed at approximately 6 weeks.
NJ Blueberries:
The Bloomfield-Montclair CSA has an arrangement with an organic blueberry farm in southern NJ and we usually coordinate one or two deliveries of blueberries each season. Members have the opportunity to order flats of blueberries for one or both deliveries. Prices vary seasonally.
Local Honey:
From time to time, local honey–some from the hives at our pick-up site–is made available for members to purchase.
How Much does this all cost?
The vegetable share price for the 2017 season will be $675 for a 24-week season. (John offers an early bird discount of $25 for shares paid in full by March 20th.)

The fruit share price for 2017 will be $345 for the 23-week season.

Members can custom design the size of their egg and/or poultry shares but must preset a delivery amount for each bi-weekly delivery throughout the season.  Eggs cost $4 per dozen.  Whole fresh or frozen chicken cost $10.40/bird (3-3.5 lb birds) and $14/ cut up bird.

There is a $20 cash site fee due during one of the first deliveries each season to help pay for running the distribution.  Members get 10% off at John's stand at the market should they want more.

Prices for flats of blueberries vary season to season

.
Want to join?
We will be sending out registration forms in February to new members for the 2017 season.  If you would like more information or membership registration form, please contact AsaMiraglia@gmail.com.
This page has the following sub pages.
No Comments »