Aug 7th 2007recipe & Vegetable Info
Arugula is a spicy salad green. Wash and spin and use in salads. Its nice in a mix of salad greens, but makes a lovely salad by itself. Arugula's peppery taste can stand up to lots of other bold flavors–intense vinegars, lemon, olives, salt, shaved parmesan, nuts, avocado.
Arugula can also be cooked. Chop it and fold it into sauces or cook with other greens.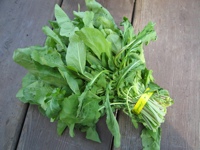 Comments Off on Arugula