Aug 7th 2007recipe & Vegetable Info
English peas, or shelling peas, are one of the harbingers of spring. Nothing quite matches the sweet crunch of a freshly picked pea. Timing is everything with peas. Pick it too soon and the peas are too small, wait too long and their sugars turn starchy. Heaven forbid you eat a pea several days past its prime–it is hard and bitter. They are also much better shortly after harvesting, so I urge you to eat them up!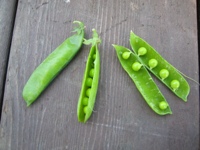 To shell, simply open along the seam and scrape the peas out with your thumb. Collect in a beautiful bowl. Steam ever so slightly–no need to over cook– or shake in a shallow pan of boiling water. A couple of minutes should do it. They will turn bright green. The peas are great as is, but a bit of butter doesn't hurt.
No Comments »