Aug 7th 2007recipe & Vegetable Info
Escarole, and the curly frisee that was the other choice, are members of the chicory family. Other chicories are endive and radicchio. These are hearty greens with a firm texture and slightly bitter taste.
Escarole can be eaten raw in salads, but it is best cooked. Slice into ribbons and cook quickly to retain its edge or saute low and slow with some garlic scapes to sweeten.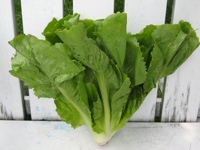 Escarole is famously paired with white beans in soups and casseroles. It can withstand a lot of cooking and a lot of strong flavors.
Frisee (not pictured), should be eaten raw in salds
No Comments »